Wednesday March 7th, 2001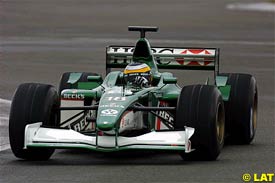 Pedro de la Rosa made his first appearance for the Jaguar Racing team this morning (Wednesday) in testing at the Silverstone circuit.
Spaniard De la Rosa, who controversially joined Jaguar after turning down a test-driver role with Prost last month, put the new R2 car through its paces.
A Jaguar spokesperson confirmed De la Rosa's debut, saying: "He is in the car for his first test with us. He is running in an R2 to get himself familiarised with the car, and will be doing all three days of the test."
He joins the team's second test driver, South African Tomas Scheckter, who has been pushed down the order into an old R1.
De la Rosa was originally pencilled in as the Prost test-driver for this season, but the Spaniard was tempted to join Jaguar with the promise of a race seat in 2002.
The Prost team was unhappy with the move and threatened legal action. De la Rosa will now want to put that to the back of his mind as he concentrates on improving the performance of the under-paced R2
---