Friday March 16th, 2001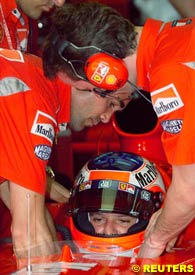 Brazilian Rubens Barrichello topped the times on Friday when he clocked the fastest lap in his Ferrari in opening free practice for Sunday's Malaysian Grand Prix.
Barrichello outpaced his Ferrari teammate, World Champion Michael Schumacher, with a best lap of 1:39.502.
This left him just six-tenths of a second clear of third placed Italian Jarno Trulli in a Jordan Honda with Briton David Coulthard fourth, very close behind, in the leading McLaren Mercedes-Benz.
Eddie Irvine was fifth fastest in his Jaguar, but was forced to park his car out on the track in the closing stages of a session run mostly in very hot and humid conditions on another sweltering day at the Sepang circuit close to Kuala Lumpur international airport.
The session saw both Arrows make early retirements with gearbox problems which forced them to park their cars and trudge across the vast gravel traps in the heat.
Juan-Pablo Montoya failed to record a lap time due to a fuel pump failure.
Pos. Driver        Team                  Times                
 1.  Barrichello   Ferrari          (B)  1:39.502  200.547 km/h
 2.  M.Schumacher  Ferrari          (B)  1:40.123   +     0.621
 3.  Trulli        Jordan Honda     (B)  1:40.135   +     0.633
 4.  Coulthard     McLaren Mercedes (B)  1:40.490   +     0.988
 5.  Irvine        Jaguar Cosworth  (M)  1:41.000   +     1.498
 6.  Frentzen      Jordan Honda     (B)  1:41.007   +     1.505
 7.  Hakkinen      McLaren Mercedes (B)  1:41.008   +     1.506
 8.  Panis         BAR Honda        (B)  1:41.063   +     1.561
 9.  Burti         Jaguar Cosworth  (M)  1:41.443   +     1.941
10.  Heidfeld      Sauber Petronas  (B)  1:41.866   +     2.364
11.  Raikkonen     Sauber Petronas  (B)  1:42.221   +     2.719
12.  Alesi         Prost Acer       (M)  1:42.299   +     2.797
13.  Villeneuve    BAR Honda        (B)  1:42.309   +     2.807
14.  R.Schumacher  Williams BMW     (M)  1:42.718   +     3.216
15.  Fisichella    Benetton Renault (M)  1:43.045   +     3.543
16.  Marques       European Minardi (M)  1:43.177   +     3.675
17.  Mazzacane     Prost Acer       (M)  1:44.380   +     4.878
18.  Verstappen    Arrows Asiatech  (B)  1:45.175   +     5.673
19.  Bernoldi      Arrows Asiatech  (B)  1:46.627   +     7.125
20.  Button        Benetton Renault (M)  1:48.547   +     9.045
21.  Alonso        European Minardi (M) 12:44.956   + 11:05.454
22.  Montoya       Williams BMW     (M)  No Time               
 
All timing unofficial

---