Friday March 16th, 2001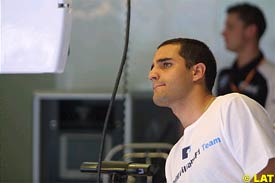 Colombian driver Juan Pablo Montoya endured a frustrating and unproductive first day of practice for the Malaysian Grand Prix as he completed just five laps in his BMW-Williams due to mechanical problems.
Montoya, who is in his first season in the sport as a racer, was left to sit in the pit garage for most of the two one-hour sessions on Friday at the Sepang circuit.
"We had a mechanical fuel pump problem in the morning, then an alternator failure in the afternoon," said Williams' technical director Patrick Head.
"The two are connected. Fuel got into the alternator housing and caught fire and it needs investigating."
The experienced BMW-Williams boss described the day as "character building" for Montoya.
"He was so exasperated, he was beyond cursing and swearing really," he added.
"I think he just gave himself a mental beta-blocker, so to speak, and just stood alongside the car and waited for the guys working on it."
Montoya was disappointed that he did not get the chance to run on the Sepang circuit. "It looked like every problem was falling on me today," said the Colombian driver. "I don't know this track at all and I really need to learn it."
Teammate Ralf Schumacher also suffered problems, and was not happy with the performance which left him 10th.
"I had some set-up problems today," explained the German driver. "It wasn't a tyre induced problem though, the reason for the imbalance lies in the set-up of the car."
---