Friday March 16th, 2001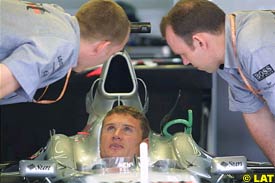 A new helmet cooling system for McLaren's Mika Hakkinen and David Coulthard could not help the drivers in Friday's free practice for the Malaysian Grand Prix.
The pair ended the session behind the Ferraris, with Coulthard in fourth and Hakkinen down in sixth - but the drivers believe there is more to come from the Woking-based team.
"What matters is Saturday's qualifying which is when we can really see where we are in relation to our competitors," said Coulthard.
"We have done a lot of work today, but we still have some way to go before I'm happy with the car," he continued. "There is no doubt that it's very hot out there and it will be a tough race on Sunday."
Hakkinen struggled with a lack of grip throughout the session at the Sepang circuit but he is confident the problems can be rectified before qualifying.
Hakkinen said: "We are having some problems finding the right balance for the car to suit this track. The main problem is lack of grip at the front, which means the car is very difficult to drive.
"We are going to study the data and find out how we can improve. Today is free practice and you never know what level of fuel the competition is running with."
---