Friday March 16th, 2001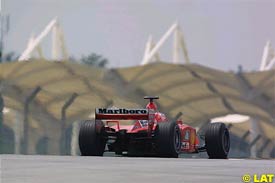 Michael Schumacher and Rubens Barrichello were happy to finish second and third in Friday's free practice for the Malaysian Grand Prix after he suffered in the Kuala Lumpur heat.
Schumacher ended the session behind Jordan's Jarno Trulli, but remained in a positive mood after completing his scheduled preparations for Sunday's race.
"A pretty normal Friday during which we sorted out the tyre situation and tried various set-up solutions," Schumacher said.
"The car coped well with the high temperatures and from a driving point of view I felt cooler in the car than out of it.
"I am sweating, which is unusual for me. It would be nice to take the air-conditioning system out of the office and put it in the car.
"The tyres are quite good for me, we have two very good types of tyre to choose from. We have had a good day, but now we must wait and see what the others can do tomorrow. Everything seems fine for now."
Schumacher's teammate Rubens Barrichello was just 0.002 seconds slower with a quickest lap time of 1:38.931, and he was happy with his day's work.
"It was quite a positive day," enthused Barrichello. "I feel fine physically, even though it is very hot both inside and outside the cockpit.
"Just as was the case after free practice in Australia, I am convinced I can go well here. We are working on finding the ideal set-up and we still have a couple of things to try out. The heat has a big effect on making the best choice of settings."
---