Friday March 16th, 2001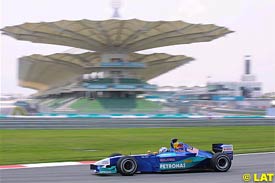 Peter Sauber disagreed with world champion Michael Schumacher on Friday by ruling out a podium finish for his Formula One team this season.
"That's too much," he said when asked about the Ferrari driver's assertion that Sauber could win a race in 2001 and would definitely take a top three finish.
Swiss-based Sauber have never won a race in nine years in Formula One and their last podium finish was Jean Alesi's third place in Belgium in 1998.
"The results today helped us to get back to reality," added Sauber after Germany's Nick Heidfeld finished free practice for Sunday's Malaysian Grand Prix with the 12th fastest time and Finnish debutant Kimi Raikkonen was 14th.
Asked again whether he thought a podium might be possible, Sauber reiterated: "No, it's not possible."
Hopes were raised for the Ferrari-engined team after Heidfeld finished fourth, albeit after French BAR driver Olivier Panis was relegated from fourth to seventh place, and Raikkonen sixth on his debut in the season-opening Australian Grand Prix.
The timing of the result in Melbourne was impeccable as the team is sponsored by Malaysian oil company Petronas.
Heidfeld reported no problems in practice and said the team had improved the car in the morning.
"This is a nice circuit and no problem to learn," said 21-year-old Raikkonen. "I think I had a reasonable day, considering it's my first time here, but we have some work to do on the set-up.
"I had too much understeer and in general the car felt a little nervous. But it'll be okay tomorrow."
---