Saturday March 17th, 2001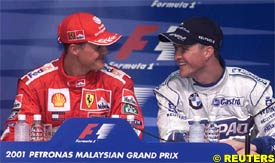 Michael Schumacher preferred to reflect on his battle with younger brother Ralf in qualifying, despite securing his sixth straight pole position for the Malaysian Grand Prix.
Ferrari hold the front row of the grid for the second time this season after Rubens Barrichello grabbed second late in the session, but Schumacher said his battle with the BMW-Williams of his brother was the highlight of the session.
"It was fun with Ralf, but somebody should tell him that he's young and that things should be built up," joked Schumacher. "He put in a good performance and he was quick throughout the session.
"I said to Ralf before that our father, he must have been going mad with his heart rate watching this. And our mother.
"To see us two there and entertaining for them. To have this pressure is good. I prefer to have it from Ralf - I know him better than the others."
The fight distracted from the stunning performance of the Ferrari team, who took their second front row lock-out of the season.
Schumacher's time was an astonishing 0.820 seconds ahead of Ferrari's McLaren rivals. "The time difference is surprisingly big," he said following the lacklustre performance of his rivals.
"They were competitive in the morning but they faded off and Mika recovered a bit to be fourth but it will be harder for David."
Barrichello made it an all-red front row right at the end of the session after struggling with his set-up early on.
"I made mistakes on my first two runs and I had also made changes work the way I wanted," said Barrichello.
"(The car) was lacking a bit on the first couple of turns and that is one when you have to keep your pace steady and you can lose it quite easily. I lost a little time but I'm happy with the lap.
"Then we went in the right direction and I was more confident on my third run and I had even more for the last run which was a really good lap."
Ferrari's dominance comes from their rapid development pace and there were even more new parts in Malaysia. But Barrichello admitted that the rate of change sometimes makes it a very risky business.
"The F2001's new aerodynamics is all experimental," Barrichello said. "Ferrari are trying new things all the time.
"Unfortunately we did not have much time to see if it really worked or not, so we took it off for qualifying."
Qualifying set up a Ferrari fight for Sunday's race, and with Barrichello just 0.099 seconds off his team-mate's time, the Brazilian is improving all the time.
"The car seems pretty good," said Barrichello. "And I'm going to give my friend (Michael Schumacher) a harder time than last year."
---