Saturday March 17th, 2001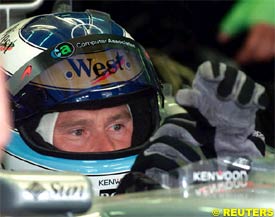 McLaren have a problem, former world champion Mika Hakkinen said on Saturday after a disappointing Malaysian Grand Prix qualifying session for the Formula One team.
Hakkinen was fourth fastest while his British teammate David Coulthard was a distant eighth in a field dominated by the two Ferraris of world champion Michael Schumacher and Brazilian Rubens Barrichello.
Ralf Schumacher was third fastest in a Williams.
"Obviously I'm disappointed to be on the second row," said the Finn, world champion in 1998 and 1999.
"We have a problem, which affects us in the last sector (of the circuit). We know what the problem is, but we just haven't been able to solve it yet. I'm looking forward to tomorrow and finishing my first race of the 2001 season."
Hakkinen crashed out of the season-opening Australian Grand Prix while lying second to Michael Schumacher.
Coulthard, fastest in Saturday's first free practice session, said the team was struggling to find the right balance.
"I'm unable to take the car to the limit and end up driving defensively, which means inconsistent times.
"We are suffering from the races being fly-aways, as we are not able to test the MP4-16 on the track.
"I'm confident that I will be quicker than some of the cars in front of me but it's difficult to overtake at this track so it will be a tough race," he added.
Norbert Haug, motorsport boss of engine providers Mercedes, said that "without doubt we have to improve in many areas but our team is capable of turning things around."
---