Saturday March 17th, 2001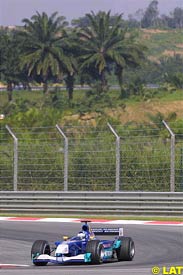 Sauber hope to impress backers Petronas with a good performance in the Malaysian Grand Prix after drivers Nick Heidfeld and Kimi Raikkonen showed promise in qualifying.
Sauber's Ferrari engine is badged Petronas, a Malaysian oil company - and the Swiss team are looking for another points finish at Sepang as they aim to build on their top-six finishes in Melbourne.
German Heidfeld put himself 11th on the grid in his pursuit of a second successive points-scoring finish.
"We are strong in race trim," he said. "Events in Melbourne played a little into our hands but 11th isn't a bad place to start here, and we can do something good again with that."
Meanwhile, his rookie teammate Raikkonen was not so pleased with his performance, after having problems with the traffic.
"It's been a little bit frustrating today," said Raikkonen, who qualified 14th. "I had some traffic problems that obliged us to abort the third run.
"At the end of that I was also called to the weighbridge and that left us out of time for a proper fourth run."
---