Saturday March 17th, 2001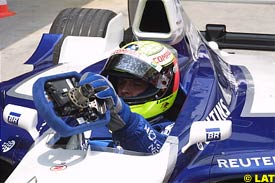 After securing third fastest time in qualifying for the Malaysian Grand Prix, BMW-Williams man Ralf Schumacher said he is not expecting to continue his impressive form in Sunday's race.
The German had a qualifying battle with his brother Michael and Rubens Barrichello, and although both Ferraris eventually knocked him off the front row, he was impressed by the performance of the BMW-Williams.
"I'm definitely surprised," Schumacher said. "After yesterday, we didn't think we were close but we have a good package. We will try to get some more points but we will not be as quick in the race and I've got to look after myself and try to finish.
"I'm not over-excited even though we had a good day today. Since we've been here we've had different problems with the car, but I will try my best and see what happens. I was expecting him (Michael Schumacher) to go quicker and I'm happy to be as close as we are.
"We are happy with what we achieved today and we will try our best in the race tomorrow, but we expect McLaren will push us hard. We are not far away from Ferrari in qualifying but the race is a different thing."
Juan Pablo Montoya capped an impressive day for the Michelin-shod team when he produced his best qualifying performance in Formula One with sixth place on the grid.
Montoya said: "I am very happy with my sixth position. I could have been even a bit further up but on my last flying lap I drove within myself in the last sector, after I had a bad spin on a previous lap.
"Considering that I hardly ran yesterday, I cannot be anything but pleased with my result."
---