Saturday March 17th, 2001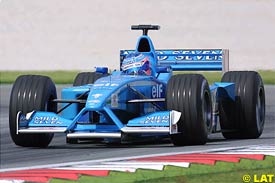 The Benetton team endured yet another disappointing day on Saturday after Giancarlo Fisichella and Jenson Button struggled during qualifying for Sunday's Malaysian Grand Prix.
The Renault-owned team, who already lived a weekend to forget at the season opening Australian Grand Prix two weeks ago, saw their drivers finish the session in 16th and 17th position, highlighting once more the obvious problems with the new B201.
"I am very disappointed as I only got one run in today and considering it was at the beginning of the session, I know I could have improved quite a lot," said Fisichella, 16th today. "I had to abort my second run and then on my third one we realised there was a problem with the car, although we don't know what it is as yet.
"We decided I should change to the T-car but as it was set-up for Jenson there wasn't enough time to prepare it for me, although the mechanics did a good job of trying, we were just a few seconds too late."
Briton Button also struggled with his car during most of the day, and like his teammate, the young driver was too disappointed with his performance.
"On my first run I was a bit too cautious and I also had quite a bit of oversteer in the fast corners," Button said, "then we made some set-up changes which improved the balance for my second run.
"We kept working in this direction, but I don't feel I really got the best out of the car, so seventeenth position is quite disappointing."
---