Saturday March 17th, 2001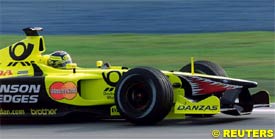 Jordan watched an all-yellow third row slip from their grasp as a promising performance was hit by late runners in the dying seconds of Saturday's qualifying session for the Malaysian Grand Prix.
Heinz-Harald Frentzen was leapfrogged by three cars to leave him in a disappointing ninth place, but remained confident for the race.
"It's obviously very close in the mid-field," said the German. "There was nothing wrong with the car. I understeered off the road briefly on my third run and just missed out on my fourth and last run.
"But, despite the disappointment, I feel good about the race because the car is handling very well."
Trulli had his track time cut earlier in the day by a mechanical problem, but he pulled his EJ11 up into fifth place to end the session as top Honda runner.
"I'm actually a little disappointed," said Trulli. "The car was well balanced but I couldn't push as hard as I wanted because I didn't know the car well enough.
"I lost a lot of running time this morning when the car developed an electrical misfire and that prevented me from fine-tuning the set-up.
"The times were so close that you needed to push to the maximum, and I didn't feel I could do that - particularly after going off the road briefly on my first flying lap."
---