Saturday March 17th, 2001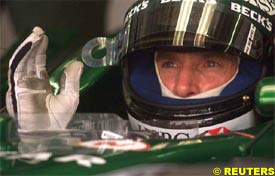 Eddie Irvine promised to get even with Jacques Villeneuve on Saturday after the Canadian held him up on a fast lap in qualifying for the Malaysian Formula One Grand Prix.
"He drove down the back straight with me right behind him, turned in the last corner like normal, held me up and then went into the pits," said the Jaguar driver.
"His eyes seem to work for him going ahead, I'm sure they work when you're behind as well."
Villeneuve qualified his British American Racing (BAR) in seventh place on the grid for Sunday's race while Irvine was two rows behind him in 12th.
The Canadian acknowledged after the race that he had held up Irvine and offered his apologies.
But the Northern Irishman, who declared that a man of Villeneuve's experience should know better, was in no mood to accept a conciliatory handshake.
"He came down but I didn't see him, there's no point," he said. "There's no apology for that.
"The only thing that works for that is revenge."
Irvine suggested that Villeneuve, who started the season with an accident in the Australian Grand Prix that killed a race marshal, should watch out later in the season.
No Excuses
Irvine found himself on the receiving end last season when he baulked Germany's Heinz Harald Frentzen when the German was on a flying lap in Monaco qualifying.
Frentzen then accused Irvine of unsporting behaviour and said he ruined both his and team mate Jarno Trulli's laps.
Irvine did acknowledge that Saturday's incident might not have made much difference to his time and his team boss Bobby Rahal refused to use Saturday's incident as an excuse for a disappointing performance.
"These things happen to everybody now and again" said Rahal.
"We simply didn't maximise our potential today and we will be working hard this evening in an effort to analyse today's performance."
Rahal said he had hoped to see the Jaguars in the top 10 while Irvine said the team had to find out why other teams were better at making improvements after free practice.
On a brighter note, Irvine was encouraged to see the Williams of Ralf Schumacher qualify third on the grid.
Williams, like Jaguar and three other teams, have switched from Bridgestone to Michelin tyres in the French manufacturer's first season back in Formula One after a 17-year absence.
"If we were all back where I am then you'd have to say we need to do something with the tyres as well as our car maybe. Now we know we've got to do something with our car," said Irvine.
---