Saturday March 17th, 2001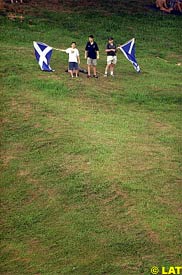 Malaysian Grand Prix organisers, struggling to persuade Formula One fans to buy tickets, said 35,000 spectators watched Saturday's qualifying and they hoped more would turn out for Sunday's race.
The circuit can cater for more than 94,000 people but ticket sales for the second event of the season have been slow.
The main sheltered grandstand overlooking the pit straight was fuller on Saturday than it had been for Friday's practice when temperatures were also higher.
Plans for live domestic television coverage of the race in Malaysia were dropped earlier this month.
Malaysia also hosted the final round of last season in late October and former world champion Jackie Stewart said this week that the country was paying the price for having two races so close together.
Sepang International Circuit (SIC) chairman Basir Ismail said in a statement that the crowd was almost as big as last year's Saturday attendance, when Ferrari's world champion Michael Schumacher was again on pole.
"I am very happy about today's attendance but of course it could be better and we are hoping very much that it will pick up tomorrow," he said.
---