Saturday March 17th, 2001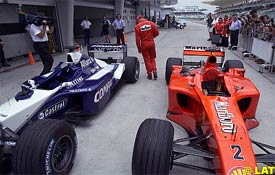 World champion Michael Schumacher wants to see younger brother Ralf in his rear mirrors after the start of Sunday's Malaysian Formula One Grand Prix.
He does not want to be in the rare position of chasing his sibling.
The Ferrari driver made clear he would be looking to deny Ralf any chance of getting ahead of him after a thrilling qualifying session during which both brothers battled for pole position.
"He's too fast on the straight so obviously its nicer to have Rubens next to me so we two can keep him hopefully behind us," said the older Schumacher after he took pole ahead of his Brazilian team mate Rubens Barrichello.
Ralf was third, lurking behind them on the second row alongside McLaren's Mika Hakkinen.
Official qualifying figures showed that Ralf's BMW-powered Williams was fastest through the speed trap with a peak of 313.2 kph compared with Michael's 303.4.
Ralf was also quickest through the first sector of the circuit and ahead of his brother on the third.
But the 25-year-old, who has yet to win a race or secure pole after four full seasons in Formula One, played down his chances of securing a first win for his team since they were constructors' champions in 1997.
"I don't see us racing against them or McLaren tomorrow but we'll try our best to score a few more points," he said.
"With them (Ferrari) you never know where you are. In Melbourne they were playing games even in qualifying and then they showed their real performance in the race. So let's wait and see.
"They still have quite a big gap to the rest of us and we have still something to do for the tyre situation."
"There are so many question marks here that I don't want to think about racing against Ferrari tomorrow," he added.
"I'd rather look after myself and try to finish the race."
BMW motorsport director Gerhard Berger, himself a former Ferrari driver, said he had enjoyed watching the battle of the Schumachers in qualifying and was pleased with the car.
"We have achieved here the top speeds, as we did in Melbourne. There we had to fight against some other problems but here we could get to our target that we had set ourselves before the start of the season.
"I think that this year we should be able to place several times at the front end of the grid."
---