Saturday March 17th, 2001
By Timothy Collings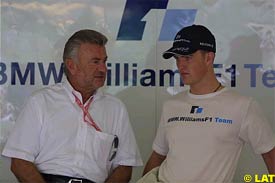 He had a broad grin across his bearded face and betrayed no sign of disappointment.
For Willi Weber, the manager of the two Schumacher brothers, their sizzling duel for pole position in qualifying for the Malaysian Grand Prix was a signal that they were ready to launch a new era of sibling rivalry in Formula One.
Weber, the man who discovered triple world champion Michael Schumacher, developed his career and helped make him one of the world's best-paid sportsmen, warned the senior brother that Ralf was going to become an increasingly threatening rival.
"It was the first time in Ralf's career that he had a powerful car to counter with. You know, he could see the grid time in front of him and he went out and he caught it immediately and that was fantastic. It is what every driver needs," Weber said.
"He has grown up himself and he now has the car to go for the pole and he did it. It was great for me and great to watch. At the end, to be honest, I think that the time that Ralf did with his next-to-last lap was really very, very quick.
"I don't know if Michael was worried because he always has something in reserve, but he might have been!"
Weber said he believed now that the Williams team were poised to mount a challenge for success again after three barren years.
"I have known the Williams team for many years and followed their successes and I am sure that, now they have a competitive engine at their backs, they are back. It was wonderful to see the two brothers fighting for their places on the front row together. It is what this business is all about for me."
Michael Schumacher eventually grabbed the prime starting position with a decisive lap three minutes from the end of the hour, but only after 25-year-old Ralf, in a Williams-BMW, had three times responded with laps that put him top of the time-sheets.
Flying Lap
In the end, Ralf was pushed down to third by a flying late lap from 32-year-old Michael's Ferrari teammate Brazilian Rubens Barrichello.
"To be honest, I am surprised we are in this position, but of course I enjoyed it," said Ralf. "It was great fun for us both to fight like that and I can only imagine how my father, and my mother, must have been feeling."
Defending champion Michael, who looked apprehensive as Ralf cut into his times, said: "I said to Ralf before that our father must have been going mad with his heart rate at home watching this, and our mother. They are more nervous than we are. Seeing us two there must have been entertaining for them."
Ralf was close to his first front-row start. No two brothers have ever started a race from the front row. It was little wonder that each grinned at the other afterwards.
Michael welcomed the surprisingly strong challenge from his brother.
"To have this pressure from him is good," he said. "I prefer to have it from Ralf - I know him better than the others." Asked who he wanted alongside him on the grid, he replied: "He (Ralf) is too fast on the straight so, obviously, I would prefer Rubens next to me so that we can keep him behind us. I hope my brother is behind us after the straight."
During the session, the two Schumachers provided a real spectacle, with Michael obviously digging into his reserves to produce the speed needed.
"I had one big moment at turn 12 and I lost the car almost completely," he said. "Its not really the corner you want to be sideways in and looking in the wrong direction, which I did, and then obviously the next corner I was on the wrong line.
"I was on the dirt, but I knew when I could get everything together it would be enough to get a time."
---