Sunday March 18th, 2001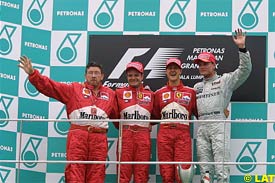 Michael Schumacher was relieved to make it to the finish in Sunday's Malaysian Grand Prix as a downpour sent cars flying off the circuit in the early laps.
The German and his team-mate Rubens Barrichello both counted themselves lucky to have survived their own off-track excursion as they raced to Ferrari's first one-two finish since last year's American Grand Prix.
"You can't call this race boring, it was very exciting," said Schumacher, who led home team-mate Barrichello by 23 seconds. "I thought it was all finished when the rain started and I went off the circuit.
"We were lucky the cars stood in shape and didn't get heavily damaged and we were able to do the race we did finally."
Schumacher said that it was his decision to put intermediate and not wet tyres on his car when the rain was falling at the start of the race. It paid off as the German driver lapped quicker when the rain stopped and the track dried almost immediately.
He added: "We had intermediates rather than rain tyres, but I was behind Jos (Verstappen) and on the rain tyres he was the quickest driver. I thought it would be easy to overtake him but it was difficult.
"It was my call to go on intermediates, and we knew we would struggle for a number of laps. But we knew it would be better for the end and that is the way it was."
Barrichello lost time at the early pit-stop as his car was at first fitted with Schumacher's tyres in the confusion and then one tyre was missing from his set.
"When I saw Michael going off I was too close to him and I had no time to do anything," Barrichello said. "I was lucky to recover and get going and it was a pity I didn't pit because I stayed out and I spun three or four times - there was so much water on the track.
"We made a good choice on the tyres, but the pit-stop took so long. I saw one of the mechanics putting a slick tyre on my right side, the engine was hot and I didn't know what to do. I had to calm down a bit.
"Michael is a hell of a driver but I wish I could have a bit of his luck because when he went off I don't think he collected as many stones as I did. I had to stop one more time to clean everything out.
"I think we have a fantastic car - the best car I have ever driven. I saw some bits of the car flying, some of the bargeboards and maybe the brake duct or something. I went off the track three or four times and these cars aren't off-road cars."
---