Sunday March 18th, 2001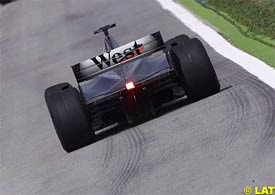 McLaren team chief Ron Dennis was frustrated with the performance of his cars in Sunday's Malaysian Grand Prix as they were beaten by Ferrari once again.
However, Dennis defended his tyre choice after the team went with full wets and were quickly overtaken by the Ferraris, who were on intermediate tyres, on a drying track.
"Are we disappointed? Not really, but we are more frustrated," Dennis said. "Today was one of those days when you have to make a decision and we made ours to go on wets and they (Ferrari) took a risk and went on intermediates.
"They were lucky too because both of their cars went off the track and nearly hit the barriers, and they also had an extraordinary pitstop when the safety car was out.
"Should we have gone on intermediates? At the time, there was such heavy rain and running water that we took the decision that we thought was the correct one in those conditions. I am very happy with that decision."
Dennis rejected suggestions that McLaren are already out of the title race and pointed to the fact that his team are better placed than last year.
He added: "Sometimes you have to call and that's the way it goes. It worked for them (Ferrari) today but it is a long season and we are not despondent. At least we are 10 points better off this year than last year."
---