Sunday March 18th, 2001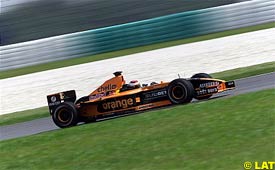 Dutchman Jos Verstappen was happy despite not scoring any points during today's Malaysian Grand Prix, where the Arrows driver ran as high as second before falling down to seventh position.
Verstappen, who had started from 18th place after a disappointing qualifying performance, completed a fantastic race, enduring an exciting battle with McLaren driver Mika Hakkinen during the middle part of the event, but losing several positions after having to pit for the third time, eventually finishing out of the points.
The Dutchman, however, was encouraged by the result.
"The whole team should be very happy with that," said Verstappen. "After the tough start we had to the weekend it was a great feeling to be so high up in the race.
"We got the maximum out of the car and the maximum out of me, especially at the start - I think that's one of my best ones yet- The car felt good in the wet but we know from last year it is good then and I have to say that I really enjoyed being up there in second place.
"The only shame is that we just missed out on the points but we're very happy that we have finished the race for the second time this season."
Verstappen also explained his incident with Jordan's Heinz-Harald Frentzen, whom he overtook while the safety car was on track, but immediately let him go again.
"Behind the safety car I didn't mean to do anything but there was so much spray and it was impossible to see and I went past Frentzen," Verstappen said. "I saw boards about safety car and let him by me and that was it, nothing else."
Teammate Enrique Bernoldi exited his second race in the early stages as he spun out on lap four on a wet track after a large downpour. Now he is looking forward to his home race in Brazil.
Bernoldi, who started 22nd, said: "We had a problem with the alternator just before I went to the grid so I had to switch to the spare car. I got a good start and was up to 11th but I lost it at turn eight - it was just too slippery.
"I'm greatly disappointed that I didn't finish, especially as my home Grand Prix is coming up in two weeks time, but all I can do is look forward to the next race."
---