Sunday March 18th, 2001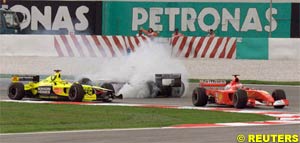 Ralf Schumacher believes his first corner incident with Ferrari's Rubens Barrichello, which left the German spinning down to the back of the grid at Sunday's Malaysian Grand Prix, cost him a podium position.
The pair collided as they battled for second place in the early stages and Schumacher was disappointed to have seen his chances of a podium finish disappear.
"I thought I had closed the door on him and it was good enough for me to come out in front but he obviously didn't think so," Schumacher said. "I would like to see it on television and study it again closely before saying anything more.
"Of course I'm very disappointed because in my position I felt I had a very good chance to do something special today and we should have at least been in there to pick up some points."
Schumacher also suggested that brother Michael was capable of surpassing Alberto Ascari's record of nine successive race wins in his all-conquering Ferrari.
He said: "Of course I know Michael better than anyone and what he can do. He could win 10 races and beat Ascari because the Ferrari car is so strong and a class ahead of the rest of the field.
"I don't want him to as I think I can win races and I would like to win one or two of the races coming up. It's going to be very difficult for the other teams to stop Michael but he knows that too."
Schumacher's team-mate Juan Pablo Montoya suffered disastrous misfortunes as engine problems forced him to switch to the spare car before the race.
"On the grid the engine died and when I tried to start it again it didn't work," explained the Colombian. "I had to jump in the T-car and start from the pit lane."
But his race did not last long, and he was left unable to realise the Williams car's potential when caught out by the standing water on lap four.
"When it began to rain hard I radioed the pit wall that I needed to switch to wet tyres," said Montoya. "We decided to stay out one more lap but I couldn't make it to the pit because there was so much aquaplaning.
"I let the throttle go but again there was so little traction in the rear that the engine stopped and I spun."
---