Sunday March 18th, 2001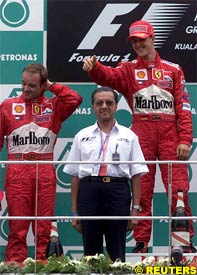 Ferrari's one-two finish in the Malaysian Grand Prix has been soured by a dispute between drivers Michael Schumacher and Rubens Barrichello.
Brazilian Barrichello was clearly unhappy with an overtaking manoeuvre from Schumacher shortly after the safety car had left the Sepang circuit following a deluge of rain that disrupted the race.
Barrichello, who finished second, believed that race winner Schumacher should have waited for an easier opportunity to pass his car.
"That's something that was a bit sad, to be honest with you," said Barrichello. "Because I told Ross (Brawn - Ferrari technical director) that I would take very much care because there were some bits on the track that were really, really wet.
"I wanted to make time as well, and I was making time, but basically I came close to the car in front, which I think was a Jordan. I lost a bit of momentum there and he (Schumacher) took the chance.
"At that time, I would say a team-mate would just stay composed and would wait for some chances in front, but that's how it went. At the end of the day I would have had to stop once more anyway, so I don't think I would have won the race. But it can happen."
Schumacher defended his actions and dismissed the possibility that his overtaking move could have caused an accident and taken both Ferraris out of the event.
Schumacher said: "I don't think it's really a point...There was no reason not to go for it. We're team-mates, we respect each other, we leave each other room not to hurt each other, but I was on a better go and as you have seen afterwards I was faster as well so I didn't want to lose much time.
"I don't think it's to the point of an accident. He can see in the mirrors as well, and you see what's going on. We are in equal situations so you fight for the position. I don't think that's unreasonable."
Brawn dismissed talk of a rift between his two drivers as they secured the Italian team's first one-two finish since the United States Grand Prix in September.
"It's not a big deal," said Brawn. "Rubens ran a bit wide when he was held behind Jarno Trulli and Michael had the chance to go around them both on the outside and he took it.
"I know Rubens is a bit uncomfortable about it but it's not a big issue for the team and I'm sure he knows that. It will soon be forgotten."
---