Sunday March 18th, 2001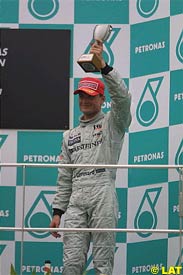 McLaren David Coulthard said he was happy to finish third behind Ferrari pair Michael Schumacher and Rubens Barrichello - but warned their supremacy will be broken soon.
Coulthard, who started eighth on the grid, led the race following a period under the safety car but said he did not expect to win the race and accepted third-place was a good result.
"I have more points now than I did at this stage of the championship last year," said Coulthard, "And I know we are running a car which is capable of a lot more than we have shown this weekend.
"We are going to still be a little bit behind in Brazil but hopefully we will be a bit closer. But it won't be until we get to Europe that we can start testing properly and move this car forward."
Despite a brief spin Coulthard led the race when the safety car came out after a rainstorm, but a bad choice of tyres by McLaren allowed Ferrari's Michael Schumacher and Rubens Barrichello to cruise to a one-two finish.
"Coming into the last corner both Jarno (Trulli) and myself spun," said Coulthard of the rainstorm. "But I managed to keep it going and get into the pits.
"With that much water we thought it was the right decision to go with wets but when the safety car came out you can be sure you are not going to be driving (hard) and in hindsight intermediates would have been better.
"We had to run a long time on wets and I was losing a lot of time to the Ferrari's while I was waiting for the slicks."
Coulthard's team-mate Mika Hakkinen finished sixth and was unlucky to have his race ruined in the opening lap when he was halted by the spinning BMW-Williams of Ralf Schumacher.
"I got stuck at the first corner and lost four positions," said Hakkinen, who dropped to eighth because of the incident.
He struggled to race in the unfamiliar position and was stuck behind Jos Verstappen's Arrows for some time. But once the track cleared ahead of him he was able to push hard and was pleased with his eventual pace.
"After my last pit-stop I was able to attack again and set a number of fastest race laps," said Hakkinen.
"I caught Ralf Schumacher in fifth during the closing stages but it's easier to catch than it is to pass. At least I have scored my first point of 2001."
---