Sunday March 18th, 2001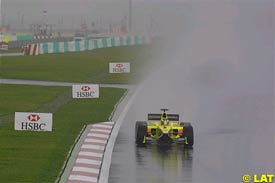 German driver Heinz-Harald Frentzen defied the downpour and a mechanical fault at the start to finish fourth in the Malaysian Grand Prix and he could not contain his delight.
The Jordan driver almost had to relinquish his ninth place grid position as his car misfired on the first formation lap and left him at the back of the field.
But after Benetton's Giancarlo Fisichella failed to line-up in 16th place on the grid, Frentzen earned a reprieve and after a good second start he beat the McLaren of Mika Hakkinen and the Williams of Ralf Schumacher to finish fourth.
"This was one of the most exciting races I have ever had, fighting with Ralf (Schumacher), Jos (Verstappen) and Mika (Hakkinen)," Frentzen said. "We went all over the place due to the standing water but this race was totally driven on the limit.
"At the start I had an electronic problem which caused the engine to misfire, but luckily there was a re-start which gave us time to reset the car's control system and everything was fine. We had a good strategy which scored us valuable points."
Frentzen's team-mate Jarno Trulli suffered from the downpour in the race as his work in the opening laps was destroyed by a spin in the wet conditions. He recovered to finish eighth but was frustrated.
"I had a good start and made it up to third at the first corner," Trulli said. "The car was going well and I kept pushing on.
"In the second lap, both the Ferrari's left the track and I was leading for one lap but unfortunately I spun in the wet at the end of the straight. I was able to regain control but the spin caused some damage to the bargeboards and front wing, which made handling difficult.
"However, Heinz has scored three points which is very good for the team and I am happy to have finished the race although frustrated not to have scored points."
---