Sunday March 18th, 2001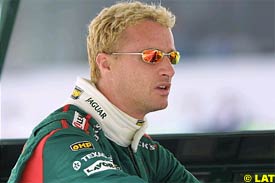 Jaguar driver Eddie Irvine bemoaned his luck after a startline shunt and severe weather wrecked his chances of finishing the Malaysian Grand Prix.
The British driver was unhappy with the actions of Arrows driver Jos Verstappen, who Irvine believes hit the back of his car at the start. And Irvine's mood did not improve as he spun off and out of the race after just four laps as heavy rain hit the Sepang circuit.
"This is yet another example of somebody not using their brain," Irvine fumed. "As was the case in Melbourne, I was shunted off at the first corner by (Jos) Verstappen I believe.
"Given the space at the first corner, I can't begin to imagine what was going through his head."
He added: "No sooner had I got back on track and the sky opened up with a tropical downpour. There was little I could see or do and at turn six I ran wide with about three other cars.
"At that point everybody dived into the pits, but as a result of going off I had debris in the cooling ducts and the car had already begun losing water by that point. I had no choice but to retire."
Brazilian Luciano Burti ended the race 10th as he proved the Jaguar R2 chassis has the reliability missing in 2000, but he failed to challenge for a top-six finish.
Burti said: "I lost some ground at the start because Eddie was shunted off right in front of me and I had no choice but to take evasive action which cost me a few places.
"I gained a couple of places back and then the rain came pouring down. The car felt quite snappy all afternoon but we must start making better use of the Friday and Saturday sessions."
---