Sunday March 18th, 2001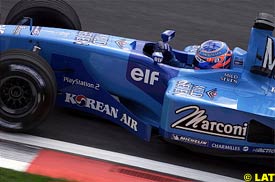 Benetton have a problem with their engine but expect to improve when the Formula One championship returns to Europe next month, team boss Flavio Briatore said on Sunday.
"We knew this season would be very difficult because we start with a completely new engine. We did not have time to test in the winter so we test it now," he said.
Briton Jenson Button finished 11th for the Renault-owned team, constructors' champions in 1995 when they also had Renault engines, at the Malaysian Grand Prix.
Italian Giancarlo Fisichella did not finish and Button's placing was the team's best result in two races so far this season after 13th and 14th in Australia.
"We hope that sooner or later we will fix this problem," said Briatore.
"This is a major problem. The fact that we didn't have the engine meant we never tested the car this winter. We will get there little by little.
"I guess after Imola we will look better. But already in Brazil I think we will have something.
"Today, to finish in the race for us was fundamental."
---