Sunday March 18th, 2001
By Timothy Collings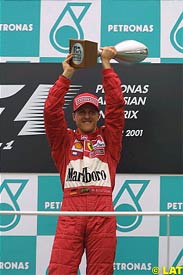 Michael Schumacher was far from his clinical best on Sunday when he became the first driver for 48 years to win six successive Formula One Grand Prix.
But in equalling a part of the outstanding record of nine triumphs recorded by Alberto Ascari between 1952 and 1953 the defending world champion re-affirmed his position among the greatest drivers in the history of the sport.
As Ferrari technical director Ross Brawn put it in the aftermath of a dramatic and somewhat chaotic Malaysian Grand Prix, if it was not his best drive it was certainly one of his most sensational and important.
Starting from his sixth consecutive pole position, the 32-year-old German found himself back in 11th position by the end of the fifth lap after a tropical downpour had played havoc with the normal order of events.
He even had to endure the indignity of an off-track excursion across a gravel trap when the rain made his car uncontrollable.
After this, a delayed pit-stop and various incidents all around him he emerged to steer his F2001 car, on intermediate wet-dry tyres, through the field to control the race with an almost arrogant ease. He came home 23.6 seconds clear of his Ferrari team mate Rubens Barrichello.
Spare Car
To cap it all Schumacher triumphed in his spare car, a fact which merely underlined his and Ferrari's remarkable superiority over the rest of the field.
With his career total of 46 wins, he is now only five behind Alain Prost's record of 51. He has already passed the Frenchman's total of 41 fastest race laps at the recent Australian Grand Prix.
Yet such statistical achievements mean almost nothing to him as he re-writes the record books and shrugs off the acclaim from various quarters of the paddock.
"It is nice to set these kind of records but in the end only victories and championships count," said Schumacher.
"On the other side there is a lot of satisfaction in how you win races and especially if you have to work very hard with the team to achieve success. I like wins that follow a lot of hard work."
Ascari, winner of six races in 1952 -- in Belgium, France, Britain, Germany, the Netherlands and Italy -- went on to add victories in Argentina, the Netherlands and Belgium again in 1953 to his total before his Ferrari team mate Mike Hawthorn broke his run in the 1953 French Grand Prix.
Good Form
"Michael is certainly in very good form at the moment and really looks capable of anything," said Brawn. "But Rubens is pushing him and if someone is to end his run of wins it would be very nice if he did it."
The next race is in Barrichello's birthplace, Sao Paulo, where he would love to add a second victory to his maiden triumph at last year's German Grand Prix.
But more than anyone he knows how difficult it is to beat Schumacher.
"Michael is a hell of a driver but I wish I could have a little bit of his luck as well...I think when he went off he didn't collect as many stones as I did so I had to stop once more to clean everything."
Schumacher's series of wins owes more to his massive well of self-confidence and determination rather than good fortune.
"He is exceptional, more than that really," said Eddie Jordan, the Jordan-Honda team owner who introduced Schumacher to Formula One in the 1991 Belgian Grand Prix.
"Ferrari look a class apart but Michael is something else. He can deliver what he wants at the moment and, to me, it looks as if he is not yet out of second gear."
Another win would take Schumacher to seven successive triumphs and another step towards a fourth championship.
This would lift him clear of the triple champions' club occupied by Jack Brabham, Niki Lauda, Jackie Stewart, Nelson Piquet and Ayrton Senna and put him level with Prost, a winner of four titles.
Juan-Manuel Fangio stands alone with five titles between 1951 and 1957.
---