Sunday March 18th, 2001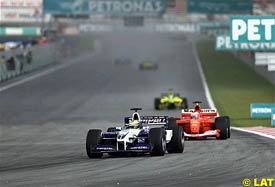 French tyre manufacturer Michelin scored on Sunday its first points in Formula One since its return to the sport after a 17-year absence, with Williams' Ralf Schumacher finishing in fifth place at the Malaysian Grand Prix.
In a chaotic race which saw a torrential rain play a vital role in the outcome, Michelin experienced a day of mixed fortunes when his main driver Schumacher was forced into a spin at the first corner after having qualified in a surprising third position.
However, Schumacher was able to fight back and give the French company its first two points of the year, to the delight of Michelin boss Pierre Dupasquier, who confessed he was impressed by the Ferrari team after taking a dominant 1-2 win.
"What a race!," said Dupasquier. "It's obviously pleasing to score some points but this has been a very strange race. After the rain at the beginning it was always going to be difficult for everyone, but I can only say how impressed I am by the Ferraris, particularly on intermediate tyres in the heavy rain."
Dupasquier also admitted he was puzzled by what he saw during today's race, and he admits they need to complete more races under normal circumstances to really judge their perfomance level.
"It is still very early, but I am sure we can learn something from this race, although right now I am very confused by lots of its elements. Ralf was fast ­ particularly in the middle third - and Hakkinen seemed to struggle early on, and then they seemed to swap. But I really don't know why.
"Judging by Ralf's times, our tyres seem to be capable of being both quick and constant, but we will need a lot more races under more 'normal' circumstances before we really know where we are."
---