Friday March 23rd, 2001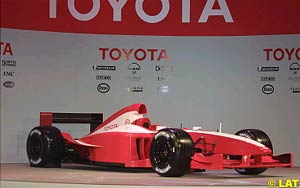 The Japanese Toyota team unveiled on Friday in France their first Formula One car, in anticipation of their official entry in the sport in the 2002 season.
The Japanese giant, the third biggest car manufacturer in the world, will enter Formula One next season and, manufacturing their own chassis and engines, they will become only the second team to do so along with Ferrari.
Recognizing that the learning curve in Formula One is one of the steepest in any sport, Toyota Motorsport nevertheless is optimistic of reaching the highest levels of Grand Prix racing.
"A big-size cheque book alone does not win races," said Toyota Motorsport President Ove Andersson. "There are recent examples of that.
"It is the strength, dedication and passion of the whole team that makes it successful or not. This takes time and is extremely difficult to achieve. Our first task is to build the best possible car.
"Only when we have succeeded, can we maybe start thinking, or better dreaming, ­about challenging for the title."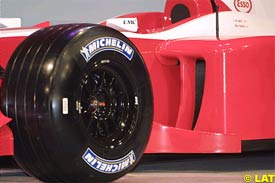 The Michelin-shod Toyota chassis has been under design since mid 1999 by a team headed by Jean-Claude Martens, and supervised by technical director Andre de Cortanze. A number of wind tunnel models were constructed and tested in the Lola facility in England.
"Of course there is a desire to see the car race as soon as possible but we are realistic and want to have the car well prepared for racing, so that's why we are embarking on such an exhausting test programme," said de Cortanze.
"In the beginning I want to be able to make more than 300 kilometres before retiring into the pits. There are many other goals after that but our number one aim is to achieve reliability as well as speed. There is no point having a fast car if it cannot finish."
The Toyota Formula One V10 engine, which was fired up for the first time in September 2000, has been entirely designed and built in-house in Cologne by a team of engineers headed by Norbert Kreyer and Luca Malmorini and supported by the engineering facilities in TMC Japan.
The new car will be tested and developed by Finn driver Mika Salo and Scot Allan McNish. Salo saw the completed car for the first time at a recent preview for Toyota Motorsport's multi-national team at Cologne. It was a moving moment for the Finn.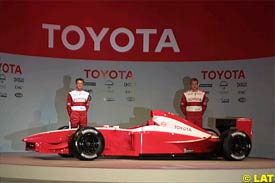 "It was a chance to say thank you to the guys who built the car and to look forward to making it competitive," admitted Salo. "If looks are anything to go on it will be very fast, but all the revolutionary stuff is underneath.
"Not only for Toyota but for Formula One, it is important that we are competitive - Formula One needs another dominant team. Hopefully that will be Toyota. That is why I am here."
---