Friday March 23rd, 2001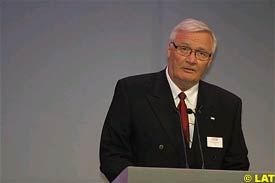 Scot driver Allan McNish, who along with Finn Mika Salo will be in charge of testing duties for the Toyota Formula One team, will also race for the Japanese outfit when they make their official entry in 2002, the team's boss confirmed on Friday.
Speaking at the launch of their first Formula One challenger today at the Paul Ricard circuit in France, Ove Andersson confirmed the Scot will make his debut with Toyota in 2002.
"McNish will race with us unless something really bad happens," Andersson told reporters. "We have worked with Allan during our Le Mans programme and found him technically excellent and a pleasant person to work with.
"Both our drivers, we believe, will be able to help us move forward with our project because of their past experience. They are more than capable to provide the technical feedback needed by our engineers and technicians."
McNish, 31, is the current American Le Mans Series champion.
---