Friday March 23rd, 2001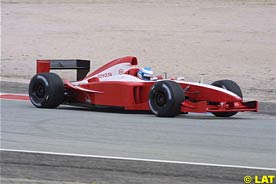 Finn Mika Salo successfully completed the first run with the new Toyota Formula One car, which was unveiled today at the Paul Ricard circuit in France.
Salo, who will be testing the car before the team make their official debut in 2002, completed a lap around the French track, and he was pleased with the first impressions.
The Formula One machine was scorted around the track by two of the most succesful cars the Japanese manufacturer has produced, the Toyota GT-One which competed at Le Mans and the Corolla wich took part in the World Rally Championship.
---