Monday March 26th, 2001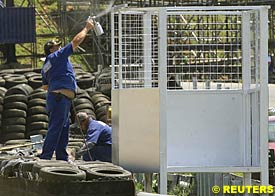 The organisers of the Brazilian Grand Prix said on Monday they were confident that the safety improvements they had made for Sunday's race at the Interlagos circuit would prevent a repetition of the lapses which marred the event last year.
They say falling advertising placards and stray dogs are problems of the past, while the future safety of stewards is guaranteed.
In the wake of the death of a steward, struck by a flying tyre, at this season's inaugural race in Australia, race organisers have installed 21 cage-like cabins around the track.
"The posts we had were substituted by ones reinforced with metal and screens," said Carlos Montagner, director of the Brazilian GP.
Organisers said they have also given special attention to the advertising placards, some of which fell onto the main straight in last year's race, narrowly avoiding causing an accident.
"They are certainly not going to fall this year," Montagner said. "The problem was the binding and the structure has been reinforced from last year."
A stray dog that crossed the track was also one of last year's notable hazards, but animals roaming around the track have been rounded up and carted away.
Organizers also said they met the demands of the safety delegate of the sports governing body, the FIA, Charlie Whitting, who visited Interlagos on February 1st.
Whitting will make his final inspection of the circuit on Tuesday morning.
Another change involves the ambulances, which have been moved from the inside of the Senna curve to the extension of the main straight to enable medical crews to respond to accidents more quickly.
A guard rail has also been installed on the Bico do Pato curve in response to the greater speed of cars. The gravel on the long straight or "reta oposta" has been reinforced and the drainage system fixed.
On Monday, workers were finishing painting lines on the track and laying the last loads of gravel.
But despite all the safety improvements little has been done to smooth out the tarmac on the track, known for being the bumpiest and most uncomfortable for drivers on the circuit.
All of the teams have arrived at the circuit on the south side of Sao Paulo ahead of Sunday's race.
---