Tuesday March 27th, 2001
By Alan Baldwin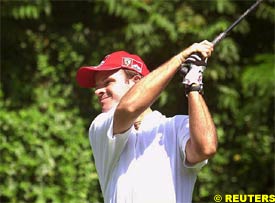 While Michael Schumacher chases a magnificent seventh win in Sunday's Brazilian Grand Prix, the same number means only misery for his Ferrari teammate Rubens Barrichello.
Formula One World Champion Schumacher has won the past six Grand Prix in a row, the first driver in 48 years to achieve such a run, and is the overwhelming favourite to make it seven at Interlagos after also winning there in 2000.
If he does, then superstitious punters with a sense of history will consider all bets off on the title race.
Since 1993, the winner of the Brazilian Grand Prix has without fail gone on to win the championship.
The last exception to the rule was local hero Ayrton Senna, with the Brazilian losing out at the end of the 1993 season to French rival Alain Prost.
That statistic does not give much comfort to Brazilian Barrichello. Nor does the fact that, whereas Schumacher has never been out of the points in Brazil, Barrichello has failed to finish at Interlagos for the past six years.
Seven in a row is something he must avoid.
But Barrichello might take solace in another fact: The last driver to win six races in a row was Italian Alberto Ascari and when the run finally ended in 1953, it was his Ferrari teammate Mike Hawthorn who ended it.
Ascari's streak lasted nine races however.
For history to repeat itself exactly, Barrichello would have to wait until Austria in May to beat his teammate and all the signs are that the Brazilian is losing patience.
Sharp Words
He has won just one race in his Formula One career, in Germany last year, and nothing would compare to winning his home Grand Prix.
Barrichello was upset to be overtaken by Schumacher on a slippery rain-soaked track in Malaysia nine days ago, describing the manoeuvre as "a bit sad".
However Ferrari team boss Jean Todt brushed off any suggestions of a rift between the two drivers, while Schumacher himself said Barrichello was just being Brazilian.
"He has the typical temperament of a man from the south," the German, who has also been on pole for the last six races, told Italy's Gazzetta dello Sport last week.
"I'm sure that if you spoke to him now he would give you a completely different reply compared to what he said in the heat of the moment."
But Barrichello's more recent comments in Brazil suggest the fires are still burning deep inside him.
"I don't want to be the number two forever," he was quoted as saying in the Rio newspaper O Globo.
"My main challenge now is to beat Schumacher.
"Even though I haven't yet managed to be ahead of Schumacher, I feel good, given that 550 people work for him at Ferrari and not for me. But this is normal because he is in his sixth year there.
"(Former teammate Eddie) Irvine accepted being one second behind him but I don't and fight for my ideals.
"There is always the possibility of becoming a champion, even if Michael Schumacher is in your team."
The McLarens of Briton David Coulthard and Finland's Mika Hakkinen, winner of two of the last three races here, will be looking to get back on the pace after a difficult first two races trailing behind the Ferraris.
But Coulthard, disqualified from second place at Interlagos last year on a technicality, has already said that the team may have to wait until the circus returns to Europe next month before any significant improvement is seen.
Brazilians will have plenty to cheer, with four drivers competing and three of them -- Jaguar's Luciano Burti, Arrows' Enrique Bernoldi and Minardi's Tarso Marques -- yet to score a career point.
Interlagos will also be the closest thing to a home race for Williams' Colombian newcomer Juan Pablo Montoya, who is still looking for his first Formula One finish.
Safety, more of a concern than ever following the death of a marshal in the opening race in Australia, will be in the spotlight at a circuit fined heavily in 2000 after advertising billboards fell onto the track during qualifying.
The ruling International Automobile Federation (FIA) will be monitoring lap times and is expected to decide after Interlagos whether to act to reduce car speeds.
---