Thursday March 29th, 2001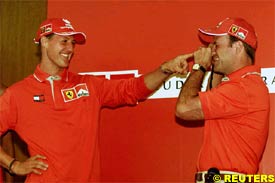 Ferrari's world champion Michael Schumacher has said he will not negotiate a new Formula One contract until the end of this year.
"At the moment there is no negotiating going on and I am not going to deal with this until the end of the year," Schumacher told the German news agency SID on Thursday.
"I do not know what offers my manager has for me but he has been told not to negotiate," the German driver said ahead of this weekend's Brazilian Grand Prix.
Schumacher's contract with Ferrari finishes at the end of next year.
Italian sports daily Tuttosport reported that Toyota, who are set to begin racing next season, are keen to sign a world-class driver and were looking at Schumacher for 2003.
Schumacher also talked about the speculation that he might be considering buying a stake in the Swiss-based and Ferrari-powered Sauber team, he said: "I don't know where it's coming from but it's totally illogical.
"I've always said I would not really want to get involved in some kind of job like that. I can't see myself as a team owner."
Schumacher said that his current team boss Jean Todt had joked that before he bought Sauber he should buy Ferrari.
His reply was that "I would have to drive until I am as old as you to get the money to afford it".
---