Thursday March 29th, 2001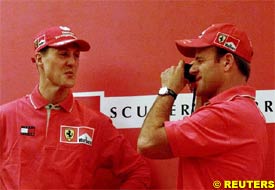 Michael Schumacher acknowledged on Thursday that he and Ferrari teammate Rubens Barrichello needed to talk after a disagreement at the Malaysian Grand Prix.
The triple world champion said he hoped to discuss what happened in Sepang on March 18 at this weekend's Brazilian Grand Prix, Barrichello's home race.
"It's like many relationships, you have difficult moments and you may disagree at certain moments and that has maybe been the fact in Malaysia," Schumacher told a news conference at Interlagos.
"But I don't see that being a particularly bad situation, having a little disagreement. We can talk and find a solution."
The German apparently upset Barrichello when he overtook the Brazilian on a slippery track after both had skidded off during a tropical downpour and after Barrichello had been urging caution.
They finished the race first and second with Schumacher taking his sixth successive win.
Schumacher said the two drivers had been on the podium together and in the post-race news conference in Malaysia but had yet to sit down to discuss the incident in detail.
"We have not had the time," he said.
Barrichello came to Brazil after the Malaysian Grand Prix while Schumacher returned home before flying to Rio de Janeiro where he played in a charity soccer match on Wednesday.
Chat
"Things like that you do not discuss on the phone," he added. "But we will have our chat over the weekend.
"Even if we don't have it I don't see that being a drama...I don't see the relationship or the professional working side will be influenced by that at all."
Barrichello won the first race of his career at Hockenheim in Germany last year and is currently joint second overall with McLaren's David Coulthard after a third and second placed finish in the first two races.
He has said that the 2000 victory has changed his outlook and boosted his confidence.
In interviews since Malaysia he has also made clear that he feels he has served his first year's apprenticeship at Ferrari and now wants to beat Schumacher.
The German confirmed on Thursday that his team matewas increasingly becoming a rival to worry about.
"If you saw the qualifying in Malaysia, you saw what a challenge he is," said Schumacher, who clinched his sixth pole in a row after a strong challenge from his younger brother Ralf and Barrichello.
Barrichello was second fastest in qualifying, preventing an all-Schumacher front row.
"He is very close. He is doing a very good job. He has improved his game since the beginning of last year," said Schumacher.
"I think it's natural and I expected that, although at the end of the day the situation is that I'm lucky to still be on top. But it gets tighter and I did expect that.
"But as a team we work very well together."
---