Thursday March 29th, 2001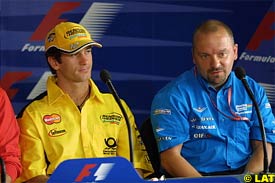 Toyota will have a tough task ahead of them when they make their Formula One debut next year, according to Benetton technical director Mike Gascoyne.
"They have a huge job, to set up a new team and to do it in Germany," he told a news conference on Thursday at the Brazilian Grand Prix. "They've got a huge task ahead of them and I think it'll be a long road for them.
"But as long as they've got the financial commitment I think they will get it right."
Toyota launched their first car in France last week.
Gascoyne should know about the work ahead. Benetton have had a difficult time in their first full year under Renault ownership before the British-based team change their name next year to that of the French manufacturer.
Renault have a great history in Formula One, providing the engines that won titles for constructors Williams and Benetton and winning 95 out of 286 races.
But, setting out on a road they hope will lead to a first world constructors' title, they have hit problems in developing their revolutionary new V10 engine.
They have also had to contend with a switch from Bridgestone tyres to Michelin.
Drivers Giancarlo Fisichella of Italy and new arrival Jenson Button of Britain have not managed to qualify higher than 16th in a field of 22 in this season's two races.
Button's 11th place in Malaysia - a race that saw Fisichella start from the back of the grid after parking his car in the wrong slot - was their best result so far.
Team boss Flavio Briatore explained after Sepang that Fisichella had been concentrating too hard on his car set-up.
Bright Future
Gascoyne, who joined Benetton from Jordan before the start of the season after a period of "gardening leave", said Renault were struggling with reliability but would get there in the end.
"We've got a very new engine and it's very early in the development cycle. Renault have been pushing very hard on the reliability of the engine.
"They have that problem which everyone has seen but they are working very hard. We've been aiming at reliability, get the car to the finish and we've managed to achieve that.
"If you look at Renault's history with the engine, they've introduced a lot of innovation in their time and they've done that with this new engine."
He was reluctant to talk about the engine in any detail but did say that it had a very wide angle, which was causing problems with vibration, and used new materials.
"The pioneers have the arrows shot at them and we're definitely going through that phase at the moment," said Gascoyne.
"But you look at Renault and they get it right. And when they get it right they tend to dominate."
Gascoyne said that in the short term the team had to take the criticism in the confidence that the future would improve.
"If you are going to back anyone to get it right in Formula One, you'd have to back Renault," he said.
---