Friday March 30th, 2001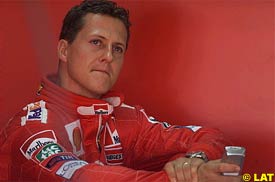 Michael Schumacher topped the times in the first free-practice session for Sunday's Brazilian Grand Prix, but was issued a warning by a back-on-pace McLaren of Mika Hakkinen.
Both the silver cars had incidents through the first session on Friday, but Hakkinen was able to get closer to the Ferraris than he has so far this season, finishing just 0.050 seconds behind Schumacher.
Rubens Barrichello posted third best time in the second Ferrari, with David Coulthard filling the second row for McLaren.
Olivier Panis had a good morning in the BAR to post the fifth fastest time, but his team-mate Jacques Villeneuve could not match that performance and finished down in 15th.
The Jaguar pair put a smile back on the team's face after a computer theft on Wednesday night, with sixth and seventh places for Luciano Burti and Eddie Irvine respectively.
Hakkinen topped the times with just less than a quarter of the session gone, bettered it almost immediately, and little more than five minutes later was into the one minute-17s.
But with just more than half the session over, normal service was resumed as both Michael Schumacher and Rubens Barrichello shot to the top of the time sheets, with Schumacher almost half a second ahead of his Brazilian team-mate.
The Jaguars continued to put up a good showing, with Irvine knocking Hakkinen out of fourth, but they were dealt a surprise when a television camera fixed just in front of their garage fell to the ground.
"A few minutes before the end of the session we heard a loud crash and the remote camera that sort of swivels in front of the garages came crashing down," said team spokesman Nav Sidhu.
"The camera actually came down right in front of the garage but as the camera came down it also pulled down quite a heavy piece of scaffolding with it as well which just missed (team principal) Bobby (Rahal) by a few inches."
"There's nobody hurt but it's a bit of a fright."
As Hakkinen tried to improve, he dramatically spun his McLaren but recovered to return to the pits. The Finn soon got it together, however, and went to the top of the time sheets with just less than ten minutes to go.
But success was stolen from McLaren not long after as Schumacher stole first place by the slimmest of margins.
Pos  Driver        Team-Engine       Tyres  Times                 
 1.  M.Schumacher  Ferrari             B  1:16.832  201.900 km/h
 2.  Hakkinen      McLaren Mercedes    B  1:16.882    +    0.050
 3.  Barrichello   Ferrari             B  1:16.994    +    0.162
 4.  Coulthard     McLaren Mercedes    B  1:17.736    +    0.904
 5.  Panis         BAR Honda           B  1:17.759    +    0.927
 6.  Irvine        Jaguar Cosworth     M  1:17.840    +    1.008
 7.  Burti         Jaguar Cosworth     M  1:18.141    +    1.309
 8.  Montoya       Williams BMW        M  1:18.215    +    1.383
 9.  Heidfeld      Sauber Petronas     B  1:18.271    +    1.439
10.  Trulli        Jordan Honda        B  1:18.291    +    1.459
11.  Bernoldi      Arrows Asiatech     B  1:18.295    +    1.463
12.  Frentzen      Jordan Honda        B  1:18.410    +    1.578
13.  Raikkonen     Sauber Petronas     B  1:18.601    +    1.769
14.  Alesi         Prost Acer          M  1:18.731    +    1.899
15.  Villeneuve    BAR Honda           B  1:18.892    +    2.060
16.  Marques       European Minardi    M  1:19.055    +    2.223
17.  Verstappen    Arrows Asiatech     B  1:19.182    +    2.350
18.  Fisichella    Benetton Renault    M  1:19.314    +    2.482
19.  Mazzacane     Prost Acer          M  1:19.600    +    2.768
20.  Button        Benetton Renault    M  1:19.811    +    2.979
21.  Alonso        European Minardi    M  1:19.990    +    3.158
22.  R.Schumacher  Williams BMW        M  1:56.634    + 0:39.802

All timing unofficial

---