Friday March 30th, 2001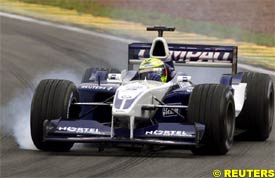 Williams proved they could be the team to watch in Brazil as drivers Juan Pablo Montoya and Ralf Schumacher ended fourth and sixth respectively in Friday's free practice.
Colombian Montoya bettered his more experienced team-mate, but then warned that further improvements can still be made on the BMW-powered car.
"I can see that the car has definitely improved from the first race," said a delighted Montoya. "If we manage to solve some understeer problems I an quite confident we could maintain a good position for tomorrow."
Montoya also escaped his usual Friday blues and managed to put in a good number of laps to help him learn yet another circuit he doesn't know.
But team-mate Schumacher was less lucky, and suffered problems that stopped him posting a time in the first session.
"I didn't have much opportunity to work on my car," said Schumacher. "Due to a gearbox problem we lost a lot of time. We could not go out on the track until quite late and I am still not happy with the set-up."
But the disgruntled German star is confident the performance is available from his Williams, and expects a better showing in qualifying.
"We have to work on it," he said. "Tomorrow there will be more rubber on the track and the tyres will do a better job."
---