Friday March 30th, 2001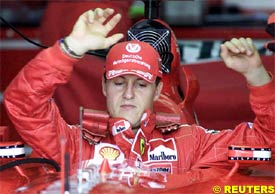 Ferrari's dominance suffered a blow in Friday when they were finally denied top spot as David Coulthard posted the quickest lap time in Friday's free practice in Brazil.
Schumacher ended the day third quickest and his team-mate Rubens Barrichello was seventh as Coulthard accused the duo of resting on their laurels.
"I am happy enough with what we have done and this is a difficult circuit," Schumacher said. "I had a puncture on the rear tyre which meant we lost a whole set of tyres and that meant in turn that we had to change our programme.
"For me, our car is not yet 100 per cent. But we have made a lot of progress. Looking at it, I would say that the opposition is closer than it has been in the last two races, but of course on Friday you can never be sure what tyres they are running."
Barrichello was unable to improve on seventh place after spinning off during the afternoon and sitting out most of the session.
"I think I had an engine problem," Barrichello said. "It stopped really unexpectedly. It may have been due to a sudden drop in oil pressure or something. I am glad it happened today and hope it won't happen on Saturday."
---