Friday March 30th, 2001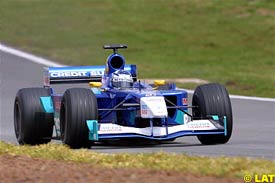 Sauber's Nick Heidfeld claimed that the Interlagos circuit posed him no problems after he posted the ninth best time in Friday's free practice for the Brazilian Grand Prix.
German Heidfeld said that the expected bumpy nature of the circuit was not as bad as was feared and added that the Swiss team had completed their expected programme.
"I'm happy with my best lap," Heidfeld admitted. "The track is better, for sure. It's less bumpy on the climb to the start-finish line, but the rest is the same.
"We followed our intended programme today and the balance was good straight away so we didn't change a lot. Everything we did today went in the right direction."
Young Finn Kimi Raikkonen, who ended 15th, was delighted with his performance on his first taste of the tricky Interlagos circuit, but accepted that he needs more time to learn the track.
"This morning I had a problem with my steering wheel, and then with the brakes, on my first run," Raikkonen said. "But after that everything was okay and I could focus on the job.
"This is a good circuit, very satisfying to drive on, and maybe you need a little more time than usual to get the most from it. I'm happy with the progress we have made."
---