Friday March 30th, 2001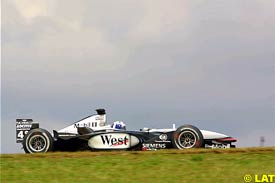 Formula One Drivers said on Friday the Interlagos circuit was too still too bumpy ahead of Sunday's Brazilian Grand Prix, despite being re-surfaced.
"It's very bumpy indeed. It seems to get worse and worse every year," said Mika Hakkinen.
"The main straight is better in a big way but everywhere else needs work."
His McLaren team-mate David Coulthard, fastest in opening practice, agreed. "It's incredibly bumpy. Every year I come here and it seems to be worse," he said.
"The first run in the morning is always a killer. You get the shock right up through your back and it's like 'oh no, welcome to Brazil'.
"It is harsh physically. It's similar to Monaco in that respect because Monaco, although there's no high G-force, is so bumpy."
Coulthard said the bumps and stresses of driving anti-clockwise at Interlagos would hit the less experienced drivers.
Minardi driver Fernando Alonso of Spain, just 19 and facing only the third Formula One race of his career, said: "It is so bumpy that sometimes you lose your vision of the track."
---