Friday March 30th, 2001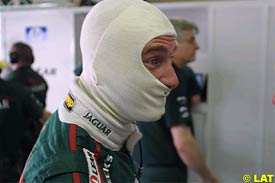 Jaguar team-boss Bobby Rahal was happy on two fronts after Friday's free practice at Interlagos - after a promising team performance and after avoiding an incident with a falling television camera.
American Rahal narrowly avoided the camera during practice and was lucky to escape injury, but he was more concerned with the improvement in performance of drivers Eddie Irvine and Luciano Burti.
"Any nearer and it might have taken my head off," said Rahal after the camera scare. "It was a nasty moment."
"I am cautiously optimistic for tomorrow," he added.
Irvine, who ended the session tenth, was pleased and even a little surprised at his performance.
"We're pretty much where we expected to be - maybe a little better actually," said the Ulsterman. "We worked on various bits and pieces today and we still have a couple of aero parts to try tomorrow morning.
"We achieved quite a lot today. We tried a new front wing and we have another to try tomorrow."
Local boy Burti was right behind team-mate Irvine, but he believes he could have done even better if he had seen more time on the track. The Brazilian is looking forward to qualifying on home soil.
"I didn't really find as much time on the track as I would have liked," said Burti. "Qualifying position is always critical but it will take on a new meaning for me in front of my home crowd. I can't wait."
---