Friday March 30th, 2001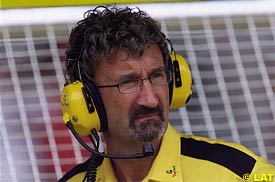 Formula One must beware of complacency and watch out for the looming danger of financial recession, team owner Eddie Jordan warned on Friday.
"It's very easy to be complacent when things are going ok," Jordan told a news conference after Friday's practice at the Brazilian Grand Prix.
"You get confused by the figures that you see and the big interest in Formula One, where every car is properly sponsored," declared the Irish entrepreneur.
"I remember when you used to have to crawl on your knees to go and find a sponsor. Now all the teams have good sponsors. Complacency can be an incredibly dangerous situation.
"You think it's easy and suddenly you have a downturn that's going to happen in the (United) States, starting with the tech stocks, and it filters through.
"It has a spiralling effect. Sometimes upwards, sometimes downwards. We need to be on our guard, I promise you."
Many Formula One teams are sponsored by high-tech industries, some of whose stocks have been heavily hit of late on the world's markets.
Companies such as Compaq, Nortel Networks, Lucent, Sun Microsystems, Reuters and Hewlett Packard are all in Formula One, which used to be far more dependent on tobacco money.
---