Friday March 30th, 2001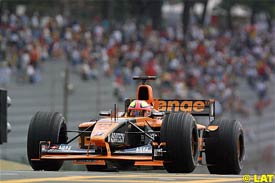 Enrique Bernoldi said that his past experience at the Interlagos circuit came flooding back to him in Friday's free practice, but the Arrows driver failed to show his potential as he was 19th quickest.
Brazilian Bernoldi has not raced at the Sao Paulo circuit since his days in karting in the early 1990's, but the Formula One new-boy admitted his experience of the track allowed him to make progress in practice.
"It's been a long time since I raced here but once I was out on track it all came back to me," Bernoldi said. "It feels good to be racing in Brazil again after being in Europe for so many years.
"We're pretty happy with the progress we made today but still have lots of work to do on set-up."
Jos Verstappen made a number of changes to his car during the day, but the Dutch driver said that the work had been worthwhile after he posted the 16th quickest time.
"We got a lot done during the first session, working on our race set-up and checking the speed on the straights," Verstappen said.
"For the afternoon session we changed a lot of things on the car which took a long time and delayed us a little, but the changes were all good so it was worthwhile. We're quite happy and we know what we have to do for tomorrow."
---