Friday March 30th, 2001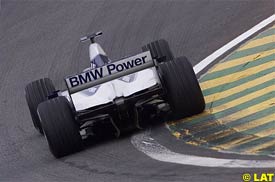 French tyre manufacturer Michelin was pleased after placing three of its runners among the top ten during Friday's free practice session for the Brazilian Grand Prix.
Colombian driver Juan Pablo Montoya ended today's session in a remarkable fourth place at the wheel of the Michelin-shod BMW-Williams, while teammate Ralf Schumacher was sixth and Jaguar's Eddie Irvine was tenth.
Michelin boss Pierre Dupasquier admitted he was pleased with today's result, at a circuit where Michelin had already been, more than sixteen years ago.
"Once again we are very happy to see our partners up there amongst the top times," admitted Dupasquier. "Today it was Juan Pablo who showed that we are quite competitive.
"This has been an interesting opening session for us here at Interlagos, a circuit we knew in the past, but which has of course completely changed since then," he added. "Our softer tyre seems to work very well, but it may be that with the track as it is at the moment, wear rates could become a factor.
"Therefore tomorrow's sessions will be important because when more rubber is put down, grip levels change and the track should become less abrasive."
---