Saturday March 31st, 2001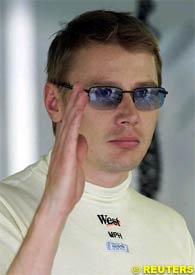 McLaren drivers Mika Hakkinen and David Coulthard showed their Ferrari rivals that they are not about to give up the championship battle without a fight as they recorded the quickest times in Saturday's first practice session for Sunday's Brazilian Grand Prix.
Hakkinen topped the times with a dominant display, while team-mate Coulthard was second to complete a morale-boosting one-two. Ferrari's world champion Michael Schumacher was left to settle for third, while his team-mate Rubens Barrichello was fifth.
Schumacher's younger brother Ralf beat Barrichello to fourth place in his BMW-Williams as all the teams prepared themselves for this afternoon's qualifying session.
Other incidents to note in the 45-minute session were a spin for Jaguar driver Luciano Burti, but he recovered, and the retirement from the session of Benetton's Giancarlo Fisichella.
Pos. Driver        Team                   Times                 
 1.  Hakkinen      McLaren Mercedes   (B) 1:14.503  208.212 km/h
 2.  Coulthard     McLaren Mercedes   (B) 1:14.656    +    0.153
 3.  M.Schumacher  Ferrari            (B) 1:14.707    +    0.204
 4.  R.Schumacher  Williams BMW       (M) 1:15.024    +    0.521
 5.  Barrichello   Ferrari            (B) 1:15.032    +    0.529
 6.  Montoya       Williams BMW       (M) 1:15.047    +    0.544
 7.  Trulli        Jordan Honda       (B) 1:15.163    +    0.660
 8.  Frentzen      Jordan Honda       (B) 1:15.275    +    0.772
 9.  Heidfeld      Sauber Petronas    (B) 1:15.633    +    1.130
10.  Raikkonen     Sauber Petronas    (B) 1:15.833    +    1.330
11.  Panis         BAR Honda          (B) 1:16.035    +    1.532
12.  Irvine        Jaguar Cosworth    (M) 1:16.114    +    1.611
13.  Villeneuve    BAR Honda          (B) 1:16.135    +    1.632
14.  Alesi         Prost Acer         (M) 1:16.702    +    2.199
15.  Burti         Jaguar Cosworth    (M) 1:16.773    +    2.270
16.  Bernoldi      Arrows Asiatech    (B) 1:16.828    +    2.325
17.  Verstappen    Arrows Asiatech    (B) 1:16.835    +    2.332
18.  Fisichella    Benetton Renault   (M) 1:17.192    +    2.689
19.  Mazzacane     Prost Acer         (M) 1:17.209    +    2.706
20.  Alonso        European Minardi   (M) 1:17.433    +    2.930
21.  Button        Benetton Renault   (M) 1:17.860    +    3.357
22.  Marques       European Minardi   (M) 1:18.212    +    3.709

All timing unofficial

---