Saturday March 31st, 2001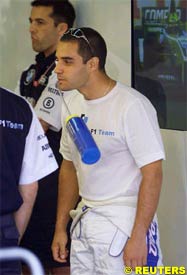 Colombian newcomer Juan Pablo Montoya set a stunning pace in final practice for Sunday's Brazilian Formula One Grand Prix.
The Williams driver, getting ready for his first race at the bumpy Interlagos circuit, topped the times with a lap of 1:13.963 in the second 45-minute session before official qualifying.
The Colombian, who has failed to finish his first two Formula One races, was 0.145 ahead of McLaren's Mika Hakkinen.
Montoya's time compared to Hakkinen's 2000 pole time of 1:14.111 and world champion Michael Schumacher's official lap record of 1:14.755 set in a Ferrari last year.
Hakkinen's British team mate David Coulthard was third fastest, ahead of the Williams driven by Ralf Schumacher.
His older brother Michael was fifth fastest.
German Heinz-Harald Frentzen was sixth in a Jordan but hit trouble in the closing seconds and needed to be pushed back along the pit lane by team mechanics.
Briton Eddie Irvine's Jaguar and Canadian Jacques Villeneuve's BAR stopped beside the track.
There was also trouble for Benetton, with Italian Giancarlo Fisichella pulling off in the first session.
The Benettons, whose new Renault engine is still in an experimental stage, were faster only than the Minardis.
Pos. Driver        Team                   Times                 
 1.  Montoya       Williams BMW       (M) 1:13.963  209.732 km/h
 2.  Hakkinen      McLaren Mercedes   (B) 1:14.108    +    0.145
 3.  Coulthard     McLaren Mercedes   (B) 1:14.182    +    0.219
 4.  R.Schumacher  Williams BMW       (M) 1:14.282    +    0.319
 5.  M.Schumacher  Ferrari            (B) 1:14.652    +    0.689
 6.  Frentzen      Jordan Honda       (B) 1:14.837    +    0.874
 7.  Barrichello   Ferrari            (B) 1:14.895    +    0.932
 8.  Raikkonen     Sauber Petronas    (B) 1:15.031    +    1.068
 9.  Panis         BAR Honda          (B) 1:15.039    +    1.076
10.  Heidfeld      Sauber Petronas    (B) 1:15.096    +    1.133
11.  Trulli        Jordan Honda       (B) 1:15.163    +    1.200
12.  Irvine        Jaguar Cosworth    (M) 1:15.409    +    1.446
13.  Burti         Jaguar Cosworth    (M) 1:15.470    +    1.507
14.  Alesi         Prost Acer         (M) 1:15.735    +    1.772
15.  Verstappen    Arrows Asiatech    (B) 1:15.972    +    2.009
16.  Villeneuve    BAR Honda          (B) 1:16.135    +    2.172
17.  Bernoldi      Arrows Asiatech    (B) 1:16.160    +    2.197
18.  Mazzacane     Prost Acer         (M) 1:16.347    +    2.384
19.  Button        Benetton Renault   (M) 1:16.411    +    2.448
20.  Fisichella    Benetton Renault   (M) 1:16.439    +    2.476
21.  Alonso        European Minardi   (M) 1:16.602    +    2.639
22.  Marques       European Minardi   (M) 1:18.212    +    4.249

All timing unofficial

---