Saturday March 31st, 2001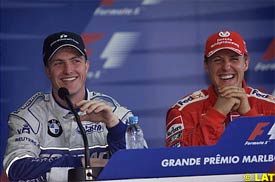 After qualifying on the front row together for the first time ever, the Schumacher brothers Michael and Ralf cannot wait to fight each other off the line.
The elder of the pair Michael secured pole for Ferrari, but Ralf's Williams showed impressive pace once again. However, Michael is not expecting his brother to pose a threat to him.
But Schumacher Senior hopes his brother can scupper his rivals as he continues his quest to better Alberto Ascari's record of nine straight wins.
"It is a different feeling having Ralf up there with me," said Michael. "It is a good feeling though, and hopefully he can make things difficult for the people behind him.
"We (Ferrari) are looking in good shape. The car feels good and I am confident that I can carry on the recent success."
Ralf Schumacher echoed his brother's thoughts as he prepared for a competitive race at Interlagos. The two brothers have clashed in races in the past, but Ralf Schumacher said any fighting on the track on Sunday will be done fairly.
"I think it will be very competitive in the race," said Ralf. "But I'm looking forward to it. Michael and I always fight fairly but fiercely.
"The car is very fast on the straight line and this shows that the Michelin tyres can't be that bad, but we'll have to wait and see how they perform in the race."
When the lights go out at the start of Sunday's race the two Schumachers are sure to provide a fascinating battle into the first corner as both are renowned as good starters.
Before they entered Formula One, Ralf was ahead in a kart race in Kerpen when Michael clattered into the rear of his kart.
Ralf said that he was sure it was not on purpose, and the pair are confident it will not end in tears now they have a similar situation in Formula One.
"We know each other well enough," said Michael. "We will be hard but fair. We don't want to make a crash out of this situation."
---