Saturday March 31st, 2001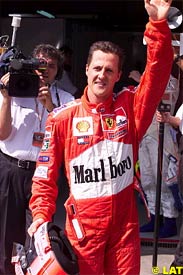 World champion Michael Schumacher secured pole position and then said he is confident he has the car to land a seventh successive victory in the Brazilian Grand Prix, but he refused to relax despite his dominant form.
Schumacher has won the last six events from the top of the grid and accepted that he has the perfect opportunity to add another win to his impressive run.
"I can be confident because the car is competitive, probably the best in the field," said Schumacher. "We have the opportunity to win. But having the opportunity and actually doing it is a different matter."
The German had a near-perfect session, and despite looking off the pace for the whole of the weekend, he knew things would go better in the qualifying hour.
"We were confident before the start bearing in mind that unlike most of the others, we did not fit new tyres this morning," he continued. "But we did know it would be tighter than in Malaysia."
However, things did not go so well for his team-mate Rubens Barrichello, and Schumacher had pity for the Brazilian, who must start his home race from sixth place on the grid.
"I am disappointed for the team that Rubens had problems, which prevented him joining me at the front," he said.
"I am very disappointed," added Barrichello. "This afternoon on new tyres I was never able to find the ideal balance on the car, which was constantly understeering.
"I am not at all happy as I felt I could have got a much better result. Sixth place was certainly not what I was expecting here in front of my home crowd."
---