Saturday March 31st, 2001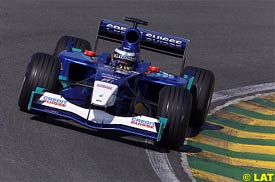 Sauber drivers Nick Heidfeld and Kimi Raikkonen were delighted with their qualifying performance in Brazil after both drivers qualified for the Brazilian Grand Prix in the top 10.
German Heidfeld was one place better than his team-mate in ninth, and the result erased memories of Sauber's year 2000 in Brazil when they withdrew from the event because of a fault on the front wings of the car.
"I'm really pleased with the way things have gone," said Heidfeld. "Things didn't work out for my third run, but the change we made for the final one was the best of all.
"To get both cars into the top 10 is brilliant, and I enjoyed the battle with Kimi. We have another big change for the race which should make the car quite strong, so I'm optimistic."
Raikkonen pushed his team-mate all the way and was equally pleased with his place on the grid for his first Brazilian Grand Prix.
Raikkonen said: "Everything was fine for me. The car went well and I enjoyed a good battle with Nick. I'm very pleased to finish in the top 10 because this is the result I've been aiming for since Melbourne."
---