Saturday March 31st, 2001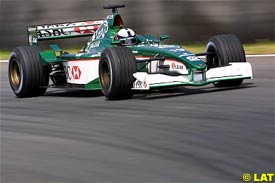 Briton Eddie Irvine said he was happy to qualify ahead of team-mate Luciano Burti in Brazil - and admitted it is good for the team that the two are pushing each other.
Irvine qualified 13th, one place ahead of Burti, and said the competition between the two is good with a battle for a race seat alongside current test-driver Pedro de la Rosa in 2002 already underway.
"It's good to see Luciano up there," said Irvine. "He's been giving me a hard time all weekend and it's great to see - apart from anything else it keeps me under pressure."
But both drivers and cars were at their limit during the session, and Irvine believes their positions are truly representative of the team's current position.
"We could have done slightly better but not by much," he said. "We made big steps forward with the steering and that helped me a lot. We only really got the car hooked up properly for the last run though.
"I've qualified in almost the same place for all the races so far this season and quite simply put this is where we are right now."
Burti was also on the limit, but the Brazilian driver believes a small mistake on his final effort could have cost him the chance of leapfrogging his team-mate.
"I spoiled my last run by losing two-tenths from the last corner to the finishing line," said Burti.
"We were pretty close to the limit today, but we probably could have squeezed and extra two or three-tenths out of the car. We are certainly aiming for better finishing places compared to the first two races of the season."
---